The full name of PCHI is Personal Care and Homecare Ingredients, which is a professional top-level event to meet the needs of the rapidly developing industry. It is also the only manufacturer that focuses on helping raw material suppliers find cosmetics, personal and home care products. Last week, Unilong Industry Co., Ltd. also participated in PCHI. I feel deeply about this.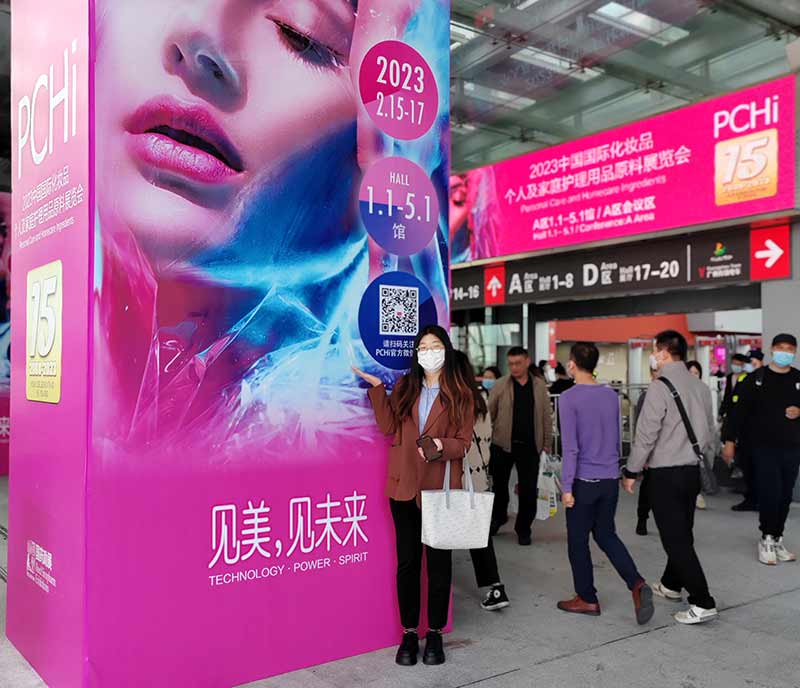 As the first exhibition in the field of cosmetics after the epidemic, personal care and cosmetics showed unprecedented enthusiasm, and the scene was crowded. Many large raw material factories have launched new products and new raw materials. We were lucky to participate in the exhibition, and we also communicated with many customers and left contact information. Unilong Industry Co., Ltd. is one leading enterprise which specialized in the production of daily chemicals material. Our main products include surfactant, polyglycerol, antiseptic, whitening and cleaning, and other emulsified and polypeptide products.The following is a list of my main products:
Products List

Peptide

L-Carnosine
305-84-0
GHK-CU
89030-95-5/130120-57-9
AHK-CU
NA
PAL-GHK
NA
L-Alanyl-L-Glutamine
39537-23-0

Surfactant

Sodium Isethionate
1562-00-1
Sodium Cocoyl Isethionate
61789-32-0
Sodium Lauroyl Isethionate
7381-01-3
HEPES Sodium Salt
75277-39-3
Isethionic Acid
107-36-8
Cocamidopropyl betaine
1789-40-0
Amides, coco
789-19-3
Coconut diethanolamide/cocamide DEA/CDEA
68603-42-9
Cocoyl Chloride
68187-89-3
Fatty acids, coco, N,N-dimethyl-1,3-propanediamine
61790-62-3
Oleamidopropyl Dimethylamine
109-28-4
4-Morpholineethanesulfonic acid(MES)
4432-31-9
Cocamidopropyl Hydroxysultaine (CHSB)
68139-30-0
Deodorant& Preservatives Materials

4-Chloro-3,5-Xylenol (PCMX)
88-04-0
DICHLORO-m-XYLENOL(DCMX)
133-53-9
O-Cymen-5-ol(IPMP)
3228-02-2
Sodium Monofluorophosphate(SMFP)
10163-15-2
BENZALKONIUM CHLORIDE
63449-41-2
Dimethylol dimethylhydantoin
6440-58-0
Chlorhexidine digluconate
18472-51-0
Dodecanamine
124-22-1
DMDM HYDANTOIN
6440-58-0
Biodegradable material
Polylactic acid (PLA)
26023-30-3
Ploycarprolactone(PCL)
24980-41-4
Lactobionic acid
96-82-2
Whiten

&Cleang

&Emulsifier

Benzophenone
119-61-9
3,4-Epoxycyclohexylmethyl 3,4-epoxycyclohexanecarboxylate
2386-87-0
Photoinitiator BDK
24650-42-8
Tetrahexyldecylascorbate(VCIP)
183476-82-6
Phenylbis(2,4,6-trimethylbenzoyl)phosphine oxide
162881-26-7
2,4-Diethyl-9H-thioxanthen-9-one
82799-44-8
Photoinitiator 160
71868-15-0
BENZOPHENONE-3
131-57-7
Uv Photoinitiator 754
211510-16-6
Drometrizole
2440-22-4
4,4′-Bis(diethylamino) benzophenone
 90-93-7
OCTYL METHOXY CINNAMATE /Octyl 4-methoxycinnamate
5466-77-3
MAGNESIUM MYRISTATE
4086-70-8
UNDECYLENOYL PHENYLALANINE
175357-18-3
Glycolic acid
79-14-1
Glyoxylic acid
298-12-4
Cetearyl alcohol
67762-27-0
Polyglycerol
Polyglyceryl-10 Stearat
79777-30-3
Polyglyceryl-6 Caprylate
51033-35-3
Polyglyceryl-10 Polyricinoleate
29894-35-7
Polyglycerol-3 distearate
94423-19-5
Polyglycerol-4 stearate
26855-44-7
Polyglyccrol- 6 stearate
95461-65-7
Polyglycerol-6 distearate
34424-97-0
Polyglycerol-6 pentastearate
99734-30-2
Polyglycerol-10 stearate
79777-30-3
With the development of social economy, daily chemical products have become necessary articles in people's life, are popular daily consumer products, and are closely related to people's quality of life, so the requirements for daily chemical products have also been improved. Daily chemical products mainly include cosmetics, toiletries, home care products, essence and spices.
With the development of science and technology and the improvement of people's living standards, the types of daily chemical products are becoming richer and more diversified. But at present, the most important thing is the safety of chemical raw materials. We are a professional chemical manufacturer. In line with the principle of being responsible for customers, we have ISO quality certification, and the safety problem is guaranteed. If you need daily chemical raw materials, you can contact us at any time and look forward to cooperating with you.