Everyone has a love of beauty. Everyone has the right to pursue beauty, but everyone's skin characteristics are not the same. Some people's skin is easy to blow and break, while some people have oily skin, which is prone to acne, wrinkles, yellow spots, etc. Therefore, in order to solve skin problems, the cosmetics industry has a continuous upward trend in many industries.
In recent years, studies have shown that among many skin problems, acne skin has become the main skin problem, so consumers' attention to acne products has been increasing. According to big data, men's preference for acne removal is far higher than that of women. Generally, men use acne removal, oil control and facial cleaning most; In terms of age, 21-year-old teenagers have more obvious preference for acne removal. At the same time, people with oily skin have stronger preference for acne removal in terms of skin quality.
At present, more than 80% of consumers hope that acne products can achieve the effect of eliminating acne without recurrence, and 70% of consumers hope that acne products can achieve the effect of reducing acne marks. As for product prices, only 32.8% of consumers will pay more attention, and this proportion has shown a downward trend in recent years. According to the analysis of comments based on the top three categories of sales, consumers are most concerned about the functional effects of acne products, followed by the use experience and cost performance ratio.
Products with anti-acne function are basically salicylic acid, nicotinamide, arbutin, astaxanthin, lactic acid and azelaic acid. For many years, azelaic acid has been playing an important role in the field of skin care — it is most often used as a chemical exfoliator to help remove rough, dark and dead skin, without manual sanding and abrasion. If you keep an eye on the trend of skin care — you may have heard a lot about a-hydroxy acids (such as glycolic acid) and β- Information about hydroxy acids (such as salicylic acid). However, in recent years, azelaic acid is not the above two kinds of acid, but the acid that has shown great splendor.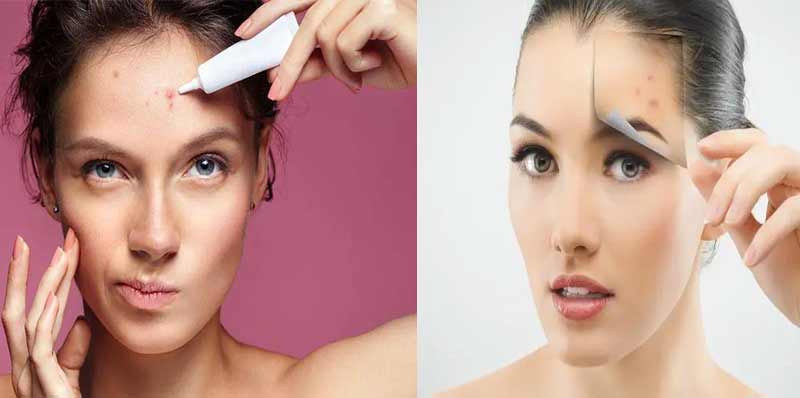 What is azelaic acid?
Azelaic acid is a kind of skin disease prevention and treatment drug, mainly used to treat acne, chloasma and skin melanin deposition. The molecular formula of azelaic acid is C9H16O4, which is a natural dicarboxylic acid produced by Malassezia furfur. It exists in cereal, rye, barley and other products, and can also be formed by chemical synthesis, cracking and fermentation.
Properties of azelaic acid
| | |
| --- | --- |
| CAS | 123-99-9 |
| MF | C9H16O4 |
| EINECS |  204-669-1 |
| Appearance | White Prowder |
| Assay | 99% |
| MOQ | 1kg |
| Synonym | azelaicacid,technicalgrade; Azelainic acid; Emerox 1110; Emerox 1144; emerox1110; emerox1144; ninandioic acid; AZELAIC ACID 98+%; AZELAIC ACID, ULTRAPURE; nonanedionic acid; nonadioic acid; Heptanedicarboxylic acid; n-Nonanedioic acid; AZELAIC ACID [1,7-HEPATANEDICARBOXYLIC ACID]; Azelaic acid, 95+%; 1,7-HEPTANEDICARBOXYLIC; ANCHOIC ACID; LEPARGYLIC ACID; AZELAIC ACID; DICARBOXYLIC ACID C9; NONANEDIOIC ACID; N-HEPTANE-1,7-DICARBOXYLIC ACID |
What is the effect of azelaic acid?
Antibacterial — directly inhibit and kill the bacteria on the skin surface and hair follicles, and eliminate pathogens.
Anti-inflammatory – inhibit the production and action of reactive oxygen free radicals, and reduce inflammation.
Anti-keratinization – reduce the synthesis of filamentous keratin and prevent excessive keratinization of hair follicles.
Whiten and lighten spots — destroy mitochondrial respiration of melanocytes, inhibit cell DNA synthesis, and thus inhibit cell proliferation.
Oil control — competitively inhibit the enzyme process that produces dihydrotestosterone, and reduce excessive skin oil induced by dihydrotestosterone.
Prevention of hair loss — it can inhibit the activity of 5a reductase, reduce the production of dihydrotestosterone (DHT), and alleviate hair loss.
Azelaic acid anti-acne texture:
Azelaic acid can solve many pathophysiological characteristics of acne, such as inflammation, proliferation of Propionibacterium acnes and hyperkeratosis of hair follicles, so it is a valuable choice for local treatment of mild to moderate acne. The anti-inflammatory effect of azelaic acid is based on inhibiting the expression of proin inflammatory cytokines. The ability to clear ROS and inhibit the production of ROS by granulocytes further support this effect. Azelaic acid inhibits the proliferation of a series of gram-positive and gram-negative microorganisms, in addition, azelaic acid affects.
Application of azelaic acid formula:
Formula category: Acne removing face cream, essence, whitening and spot removing products
Addition amount: 1% – 20%
Suggestion for use: try to keep the PH of the formula at about 4.9, which can ensure that the higher concentration of azelaic acid remains in the epidermis/dermis and the whole skin.
Acne is the most troublesome problem for teenagers. How to choose the right acne products is particularly important. Azelaic acid is a good choice. I hope this article can help you who are worried about acne.