Ultraviolet absorber is a light stabilizer that can absorb the ultraviolet part of sunlight and fluorescent light sources without changing itself. Ultraviolet absorber is mostly white crystalline powder, good thermal stability, good chemical stability, colorless, non-toxic, odorless, generally used in polymers (plastics, etc.), coatings and so on.
Most colorants, especially inorganic pigment colorants, can play a certain degree of light stabilization when used alone in plastic products. For colored plastic products for long-term outdoor use, the light stability of the product cannot be improved by the colorant alone. Only the use of light stabilizer can effectively inhibit or slow down the light aging rate of colored plastic products for a long time. Significantly improve the light stability of colored plastic products. Hindered amine light stabilizer (HALS) is a class of organic amine compounds with steric hindrance effect. Due to its functions of decomposing hydroperoxide, quenching radical oxygen, trapping free radicals, and recycling of effective groups, HALS is the plastic light stabilizer with high anti-photoaging efficiency and the largest amount at home and abroad. The data show that the appropriate light stabilizer or the appropriate combination system of antioxidant and light stabilizer can improve the light and oxygen stability of outdoor colored plastic products several times. For plastic products colored by photoactive and photosensitive colorants (such as cadmium yellow, uncored rutile, etc.), considering the catalytic photoaging effect of the colorant, the amount of light stabilizer should be increased accordingly.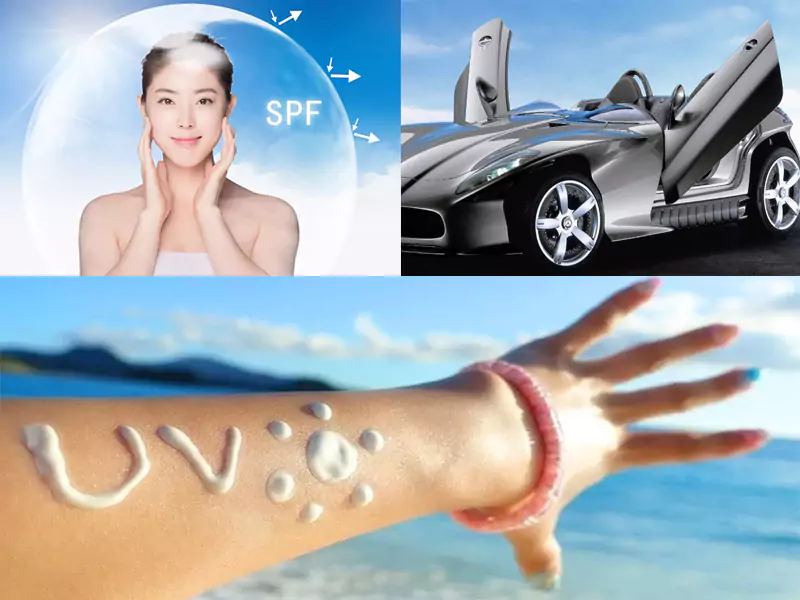 Uv absorbers can generally be classified according to chemical structure, action fraction and use, which are described below:
1.Classification according to chemical structure: ultraviolet absorbers can be divided into organic ultraviolet absorbers and inorganic ultraviolet absorbers. Organic ultraviolet absorbers mainly include benzoates, benzotriazole, cyanoacrylate, etc., while inorganic ultraviolet absorbers mainly include zinc oxide, iron oxide, titanium dioxide and so on.
2.Classification according to the mode of action: ultraviolet absorber can be divided into shielding type and absorption type. Shielding UV absorbers are able to reflect UV light and thus prevent it from entering the body, while absorbing UV absorbers are able to absorb UV light and convert it into heat or visible light.
3.Classification according to use: ultraviolet absorbent can be divided into cosmetic grade, food grade, pharmaceutical grade, etc. Cosmetic grade UV absorbers are mainly used in sunscreen, skin care products and other cosmetics, food grade UV absorbers are mainly used in food packaging materials, and pharmaceutical grade UV absorbers are mainly used in drugs.
Unilong Industry is a professional UV manufacturer, we can provide the following UV series of products, if you need, please feel free to contact us